Handknit childrens Sweater in a multifiber mohair blend yarn, in toddler sweater, small kids sweater and big kids sweater sizes.

This textural

blend of

luxury hand-knit fibers

with

hard-working

synthetics creates a 3-dimensional landscape. It's

lumpy,

bumpy

,

&

fabulous.

• Luxury Fiber
• Unusual Textural Fiber
• Easy on Wide Neck
• Lightweight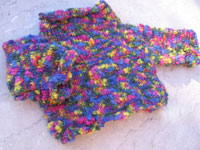 Unique Hand Knit Infant Sweater in Silky Mohair
Handknit on giant needles, this is a soft & silky no-itch mohair blend sweater.

Available in infant sweaters, todder sweaters, big kid sweater and small kid sweater sizes, BLANKIE is a luxury sweater, in kids sizes.

• Mohair Blend for versatility
• Unusual Chunky Yarn
• Easy on Wide Neck
• Warm and Luxurious
Learn more about: Mohair
Comes from: Angora Goat
Characteristics:
Natural, Animal Fiber
Lustre
Non-flammable
Very durable
Washable
Wrinkle and stretch-resistant
Soil-resistant
Absorbent
Easy to dye
End Uses:
Mohair is the wool from the angora goat. It is a silky, lusterous, versatile and durable fiber often used to make apparel such as, coats, suits, dresses, sweaters, accessories, loungewear, and socks. Miscellaneous items include: hair for dolls, beards for Santa Claus figures, blankets, upholstery, draperies, carpets and rugs.

TYPES OF MOHAIR
Kid Mohair fleece is the first shearing from a young angora goat. It is very fine and soft handling. Fineness ranges from 23-27 microns with a staple length of 100 to 150mm.
Goatling is the second shearing from a goat and is also fine and soft. Fineness ranges from 27-30 microns with a staple length of 100-150mm.
Adult Mohair is the fleece from the mature goat. It is fine to coarse with a fineness of 30 microns onwards and the staple length is also 100-150mm.
SPINNING MOHAIR
Spinning mohair is similar to spinning angora or merino wool. One can spin a soft, lofty yarn with plenty of elasticity with these following tips:
card only when blending colors
use a light tension on the wheel
put more twist into the singles to keep the yarn strong when it is plied