Why we want your email.
Not everyone likes handknits. So, we don't want to send notices of our great sales, new styles, and wonderful world of handknit newsletter to anyone who doesn't care.
But if you DO love luxury handknits at great prices, please do sign up! You'll find out when we have sales, add new cool stuff, and hold trunk sales. What could be more fab!
Thanks again for joining!
Fabsweaters.com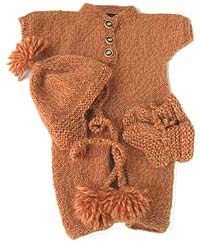 Our new cutie romper is on its way!